Decorative glass panels
Decorative glass panels - very safe panales with beautiful patterns to your kitchen, bathroom, living room.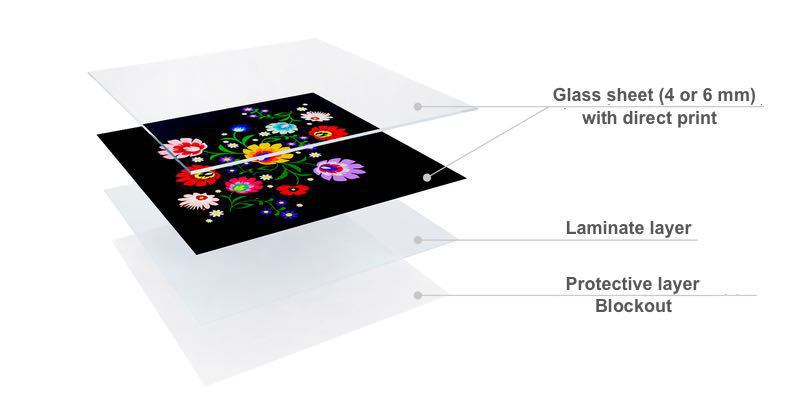 Production technology - the photo is printed directly on the glass (the image is behind the glass).
The graphics are properly secured
The prepared glass panel is additionally welded with a blockout material, which provides the possibility of gluing without visible discoloration or stains
Glass formats
Tempered glass (courier delivery - Poland) - the maximum dimension of one glass panel is 100 x 190 cm
Tempered glass (our transportation - Poland) - the maximum dimension of one glass panel is 155 x 280 cm (glass thickness: 6mm)
Float glass - recommended for dimensions 100 x 150 cm. Larger formats should be ordered based on tempered glass.
You can create much larger glass decoration. Then it will consist of several glass panels. The selected graphic will be perfectly planned so that all glass panels create one image.
How to order?
Several glass panels patterns have been arranged in categories
You can use the search engine (upper right corner of the page) and enter the theme of your artwork / photos to find the ideal pattern for you
Click on the selected glass panel design
Select the type of glass (there you will find descriptions of applications)
Enter the dimension - the system will calculate the price
Each pattern can be designed on the basis of the graphic you choose, so that it perfectly matches the size of your glass. Service is FREE!
Production time about 20 business days.
deKEA glass panels can be installed by yourself (it is very easy) or you can use our services (installation in Małopolska and Śląsk)
How we deliver our decorative glass?
Our glass panels are sent by a courier company (specializing in providing glass) throughout Poland. Shipments are insured and glass panels are packed in secure packaging. We have already sent thousands of meters of glass.
See, how our panels are packed: